DUE TO CONTINUED GLOBAL SUPPLY CHAIN ISSUES, WE MAY NEED TO SUBSTITUTE CONTAINERS OR FLOWERS FROM THE PICTURES SHOWN. WE WILL MAINTAIN THE COLOR, SHAPE AND DESIGN OF EACH ARRANGEMENT. THANK YOU FOR YOUR UNDERSTANDING, PLEASE CALL 480-897-3733 IF YOU HAVE ANY QUESTIONS OR CONCERNS!
Family Celebration
Item #
T123-1A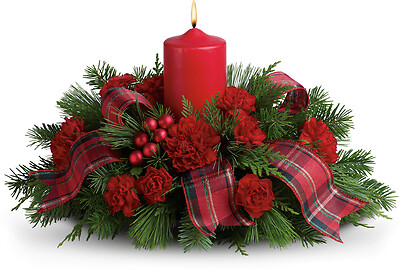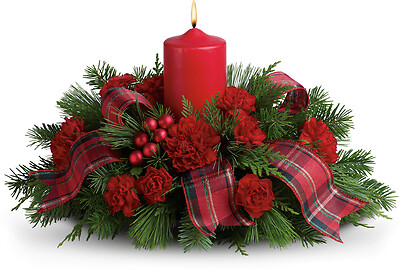 Don't show up to Christmas dinner empty handed! Charm your hostess, family and friends with this casual Christmas dinner centerpiece that's holiday flowers, a candle and a gift all in one.
A glowing 6-inch pillar candle, plaid taffeta ribbon and delightful mini Christmas ornaments dress up this centerpiece of flat cedar, white pine, Douglas fir and red carnations.