DUE TO CONTINUED GLOBAL SUPPLY CHAIN ISSUES, WE MAY NEED TO SUBSTITUTE CONTAINERS OR FLOWERS FROM THE PICTURES SHOWN. WE WILL MAINTAIN THE COLOR, SHAPE AND DESIGN OF EACH ARRANGEMENT. THANK YOU FOR YOUR UNDERSTANDING, PLEASE CALL 480-897-3733 IF YOU HAVE ANY QUESTIONS OR CONCERNS!
Large Basket Garden
Item #
T212-1A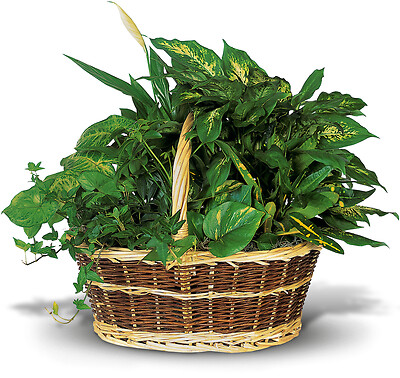 This versatile basket of potted green plants adds beauty, life and fresh air to any space. It's a long-lasting gift that communicates your love and best wishes, no matter the occasion.
This green garden of growing plants includes potted croton, dieffenbachia, green ivy, pothos, schefflera and white butterfly syngonium.