DUE TO CONTINUED GLOBAL SUPPLY CHAIN ISSUES, WE MAY NEED TO SUBSTITUTE CONTAINERS OR FLOWERS FROM THE PICTURES SHOWN. WE WILL MAINTAIN THE COLOR, SHAPE AND DESIGN OF EACH ARRANGEMENT. THANK YOU FOR YOUR UNDERSTANDING, PLEASE CALL 480-897-3733 IF YOU HAVE ANY QUESTIONS OR CONCERNS!
Stately Croton
Item #
T106-2A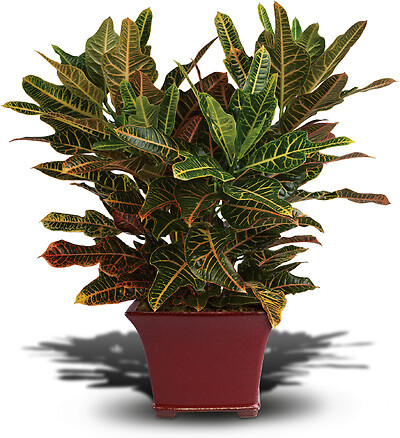 Not your typical houseplant! With its bright tropical foliage, exotic appearance and Asian-inspired square planter, this potted croton plant is an eye-catching natural addition to any room.
A potted croton plant, marked by colorful, stiff, waxy leaves that point upward, is delivered in a square planter.