DUE TO CONTINUED GLOBAL SUPPLY CHAIN ISSUES, WE MAY NEED TO SUBSTITUTE CONTAINERS OR FLOWERS FROM THE PICTURES SHOWN. WE WILL MAINTAIN THE COLOR, SHAPE AND DESIGN OF EACH ARRANGEMENT. THANK YOU FOR YOUR UNDERSTANDING, PLEASE CALL 480-897-3733 IF YOU HAVE ANY QUESTIONS OR CONCERNS!
Love Sparkles Bouquet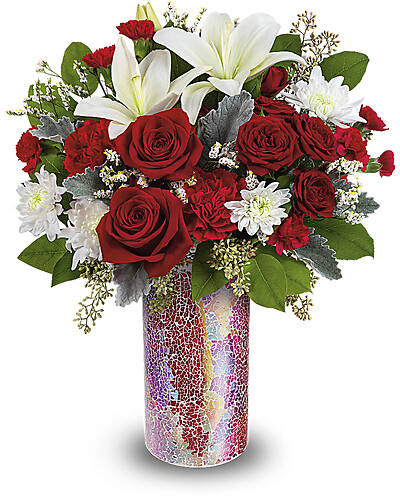 Your love truly sparkles for all to see with this breathtaking red rose bouquet in a vibrant mosaic glass vase.